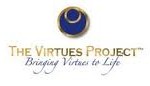 The Virtues Project is a global grassroots initiative utilizing Five Strategies for bringing out the best in ourselves and others. The Project was honored by the United Nations and endorsed by the Dalai Lama and is sparking a global revolution of kindness, justice and integrity in more than 100 countries.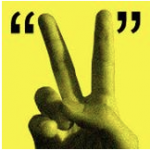 The "V" Channel is a social media channel designed to engage and inspire young people to reach for a higher level of personal development. Teaching the "What, Why and How" of virtues through creative and entertaining videos and blogs, The "V" Channel provides useful and relevant lessons that can be applied in life regardless of one's cultural background and upbringing.  Click here for a deeper dive into THE VIRTUES.
 Virtues Project Gifts of Character Initiative in Schools gives an overview of how The Virtues Project is transforming education and ways it differs from other character education and social and emotional learning initiatives.
Download these free booklets about the Gifts of Character and share them with friends, colleagues, educators and business leaders.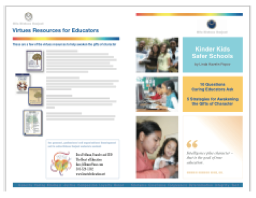 KINDER KIDS, SAFER SCHOOLS    Written especially for educators, this booklet presents "Five Strategies for Awakening the Gifts of Character" along with "10 Questions Caring Educators Ask." It speaks to the important challenges schools face in changing the culture from one of violence to one of virtues. This booklet encourages educators and school administrators to re-awaken idealism in themselves and their students.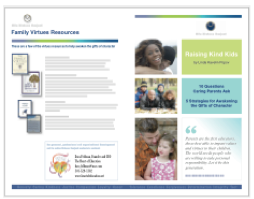 RAISING KIND KIDS  Introduce parents, mentors and others to the "Five Strategies for Awakening the Gifts of Character" as well as "10 Questions Caring Parents Ask." This booklet illustrates insights on parenting and enriching family culture using the language of virtues. Learn how to mentor children to have a sense of meaning and purpose, help them combat the pull of violence, and encourage them to cultivate their inherent idealism.

INSPIRING LEADERS  This concise, 8-page booklet presents "Five Strategies for Creating a Culture of Character" as well as "Questions Ethical Leaders Ask." Described in the booklet are principles and practices that support exceptional leaders to bring out the best in their employees. Help managers translate corporate slogans into behavior that inspires genuine social responsibility, transparency and integrity.